Books on Nutrition
You can order any of these recommended books by clicking on the links below. Choose from the following categories:
Homeopathy
Acupuncture
Nutrition
Herbal Medicine
Additional Reading
Nutrition
---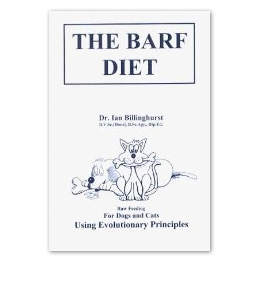 The Barf Diet: For Cats and Dogs
Give Your Dog a Bone
by Ian Billinghurst
The bible for all those interested in feeding raw food to cats and dogs for both beginners and the experienced Barf-er.
The book covers the sound scientific principles on which the evolutionary BARF diet – is based on. The question of feeding bones and the fear of bacteria in the BARF DIET. There are recipes and other highly relevant and practical information to assist in the home production of BARF diets for both dogs and cats.
View more information about this book
---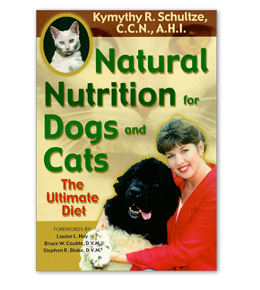 Natural Nutrition For Dogs and Cats
by Kymythy Schultze
"Each new day brings validity to what wise nutritionists-and your mother-have been saying for years: Eat good food and stop eating junk!"
View more information about this book
---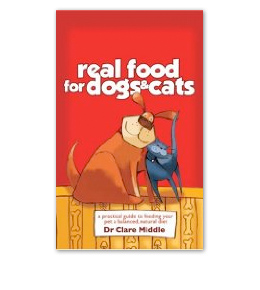 Real Food for Dogs and Cats
by Clare Middle
Clare has written here a great little book. Based primarily on Ian Billinghurst's work in The Barf Diet, but with additions of her own. I don't agree with everything she's written, but endorse most. A good read from a great vet.
View more information about this book
Book an appoinment
Dr. Nick Thompson
BSc (Vet Sci) Hons, BVM&S, VetMFHom, MRCVS.
Holisticvet
The Veterinary Practice
The Bungalow
Slaughterford
SN14 8RH
United Kingdom
Email: nickthompson@holisticvet.co.uk
Tel: 01225 487778
Email us
During Covid
---
During the Covid Crisis, I am able to give advice to animals not in my direct care.
If you have a dog and you would like to consult with me, we can arrange telemedicine consultations. We are happy to talk to you from anywhere in the world. Telephone is usually sufficient, but Zoom and Skype can also be easily arranged.
New Policy for 2021: Our commitment to raw and fresh food feeding is total. We are unable to see your dog if you are unwilling or unable to consider feeding your dog a raw or fresh food diet.