---
Referrals in Holistic Veterinary Medicine
We are a veterinary consultancy with a special interest in evidence-based equine and canine natural nutrition, botanical medicine and homeopathy.
---
---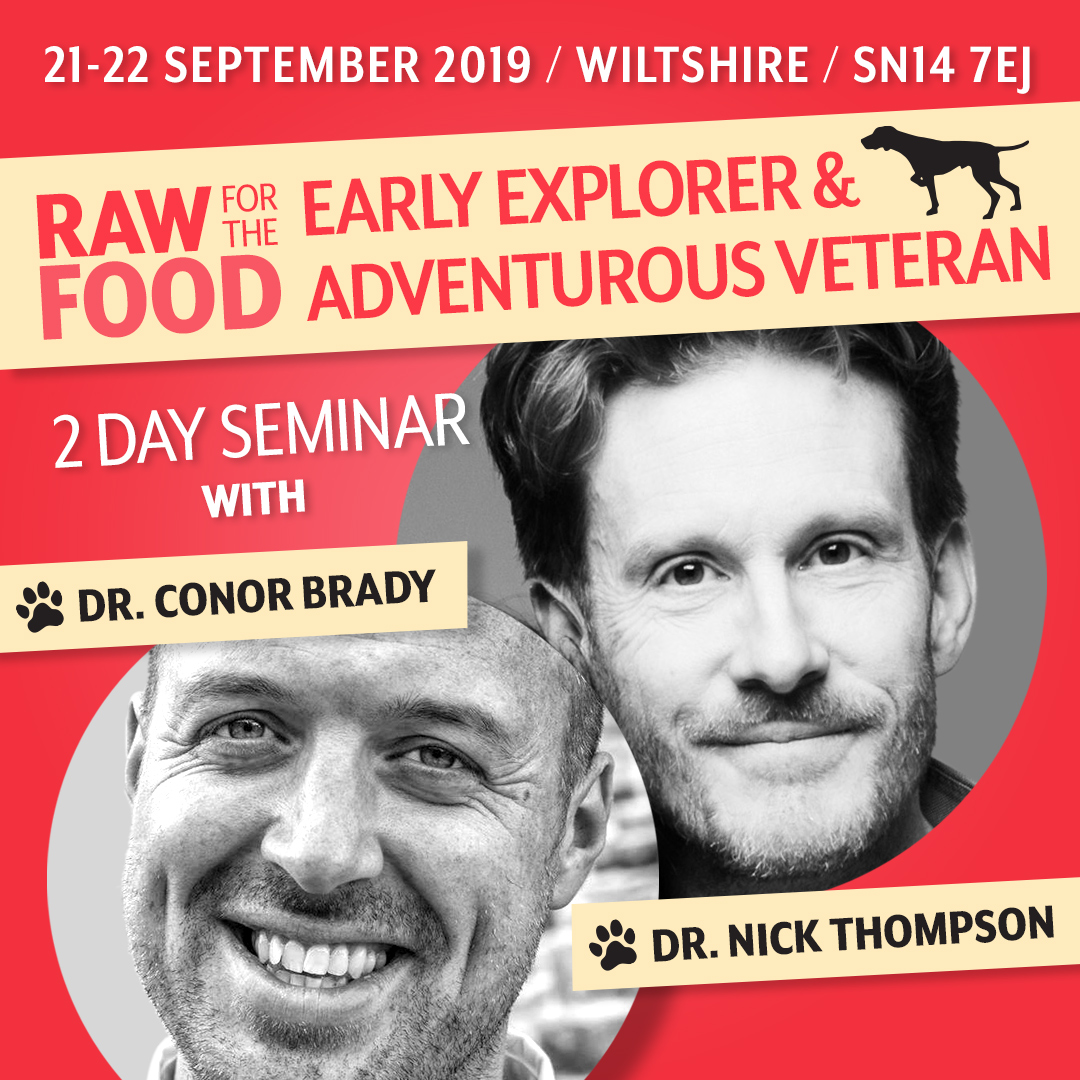 Raw Food for the Early Explorer & Adventurous Veteran
21st-22nd September  |  Wiltshire, SN14 7EJ
Dr. Conor Brady, Ireland's firebrand raw food champion, and Nick Thompson, President of the Raw Feeding Veterinary Society (and veteran of a thousand jaunty lectures in raw food), are joining forces, at last.
What do Dogs Eat?; Raw Food: The Basics; Should We Feed Veg?; Raw Food Myths Debunked; Matters of Protein; Feeding the Sporting Dog; Recurrent Skin and Gut Issues and Diseases Helped by Raw, are a few of the gems on offer from these two raw nutrition leaders.
Fun, facts and fascination guaranteed.
Book here on Helm Tickets – be quick, there is limited availability!
---
Book now on Helm Tickets
Talks & Seminars
---
Education is the heart of good medicine. We offer evening, day and weekend courses all over the U.K and Europe on a variety of topics including homeopathy, acupuncture, nutrition, raw food, herbal medicine, holistic medicine, thyroid disease in dogs, minimising vaccination/maximising immunity, autism in dogs, neutering, question & answer sessions on any aspect of holistic medicine and many others.
---
View upcoming events
Raw Food Consultations
---
We offer telephone/Skype consultations worldwide (after communication with your vet) in all aspects of Raw Feeding for dogs. Whether you are a novice or are looking to perfect an established regime, we are happy to guide you through the process.
---
Book an appointment
Book an appointment
Dr. Nick Thompson
BSc (Vet Sci) Hons, BVM&S,
VetMFHom, MRCVS.

The Veterinary Practice
Wadswick Country Store
Corsham
SN13 8JB (Sat Nav: SN13 0NY)
United Kingdom

Email: nickthompson@holisticvet.co.uk
Tel: 01225 487778
Fax: 07092 233930

PLEASE NOTE:

---

I am only able to treat horses and dogs under my care in the UK. If you are in the UK and not able to see me or get me to visit then please go to bahvs.com for homeopathic vets, abva.co.uk for acupuncture vets or herbalvets.org.uk for herbal vets for your animal.

If you are outside the UK, then telemedicine consultations may be possible. Please email the practice on nickthompson@holisticvet.co.uk.

If you have a sick animal, or even think you MAY have a sick animal, now is the time to act. I see too many cases where animals are presented too late.

Please, please – the earlier you contact the appropriate therapist/clinician, the better are the chances of regaining full health.
Book an appointment